A good kitchen paint color makes you feel more at ease while in your kitchen. We curated some of the most amazing kitchen color ideas and kitchen color combinations from home cooks around the world to help you choose the right kitchen colors and paint ideas for your own kitchen.
If you're an avid cook, or a person who just fancy spending time in your kitchen and preparing delicious meals in it, the color of the kitchen and the various objects in it have an effect on your cooking mood.
The color of your kitchen determines the dynamics of your activities in this room, and how you feel spending time in it, so painting your kitchen in a new hue represents one of the most important décor-related activities you can do.
13 Kitchen Paint Color Ideas and Wall Painting Design Inspiration for your Kitchen Colors
In this article, we present to you 50 different kitchen paint ideas, kitchen wall colors, wall painting designs with kitchen cabinet color ideas to match – that will make your kitchen look more exciting and relaxing.
1 – Pure White
Use white if you're not sure of the perfect kitchen paint color to use. White walls reflect and spread natural light fairly well.
When it comes to painting any room in your house in some sort of color, if you're not sure what that color should be, the rule of thumb would be to go for pure white.
The thing is, while a simple white may not be the best solution if you have some specific stylistic goals insight for your kitchen, white is a great placeholder color as it provides a great contrast to the colors of all the other items in the kitchen.
White generally gives your kitchen a feeling of airiness and spaciousness, so it's recommended for smaller kitchens and those that do not have large windows where natural light can come in.
If you would love to do a complete makeover instead, our list of the most beautiful kitchen design ideas is a great place to get some fresh design inspiration for your kitchen.
2 – Matte Black – for kitchen cabinet
On the opposite end of the spectrum, there is a paint color for kitchens that not many people think of first off.
Black, in general, tends to work best for high-tech gadgets and certain pieces of furniture, so it can also be a great idea for kitchen appliances and cupboards. You can also try painting the walls black, but you need to be careful not to overdo it because, the area can look closed-off and unpleasant to be in.
As far as opting for black kitchen appliances, cupboards, and other pieces of furniture in the kitchen, the best thing to do would be to go for a matte finish. The reason behind this is that glossy finishes tend to not be the best solutions for kitchens because chances are – you are going to leave a ton of fingerprints on them, which look ugly and can be a nightmare to clean all the time. With matte black, you won't have the problem of constant kitchen cabinet paint cleaning.
3 – Marigold Deep Gold
Perfect for slim backsplashes and the surrounding walls, the marigold represents a sunny color that is half bright yellow and half deep gold.
This sort of hue can be a great solution if you're looking to make your kitchen brighter, livelier, and more exciting, in general. Yellow and all the other similar colors of this palette give you a feeling of happiness as it mimics sunshine. This option works great if your kitchen has plenty of natural light so that the beauty of this color can truly come into full effect during day time.
4 – Light Yellow
Light yellow Kitchen wall painting with white cabinets
Another yellow variant would be light yellow. If you go for this hue, you're putting the accent on the brightness of the dominant white color, while the subtle undertones of yellow are there to spice things up and make the entire room look warmer and more pleasant to be in.
Also, this variation of both white and yellow will blend in beautifully with a wide variety of other colors, so you can add many different pieces of brightly-colored furniture and it will fit right in.
5 – Flamingo Pink
In case you want to add a certain air of cheekiness and brightness into your kitchen, painting your walls flamingo pink can be an interesting idea.
The thing is, pink can seem like an aggressive color to look at if it's overly saturated, but if you put just the right amount of it on the wall, it will make the entire room look colorful, playful, and welcoming. The only important thing to remember here would be not to overdo it because the room can end up looking like a kid's room, which may not be the result you were hoping for.
Of course, this pink hue can be additionally enriched by placing bright red chairs in the kitchen or adding different kitchen appliances that would add more flavor, so to speak, to the entire setting such as purple and brown, or green.
6 – Light Lilac
If you like the idea of flamingo pink but would prefer to tone it down a notch and add more purple to the mixture, light lilac may be the option for you.
Lilac, in general, represents a subcategory of purple, which is then watered down by adding shades of white to make the purple paler. Light lilac, in turn, is then additionally smoothened, to give you a soft cream-like hue with a slight purple undertone, while the rest of the color is bright.
This solution goes well with darker shades of purple, pink, cyan, orange, and many other colors. In general, if you're looking to create a soft-looking kitchen that promotes a relaxed atmosphere, this hue will work wonders.
7 – Mint Green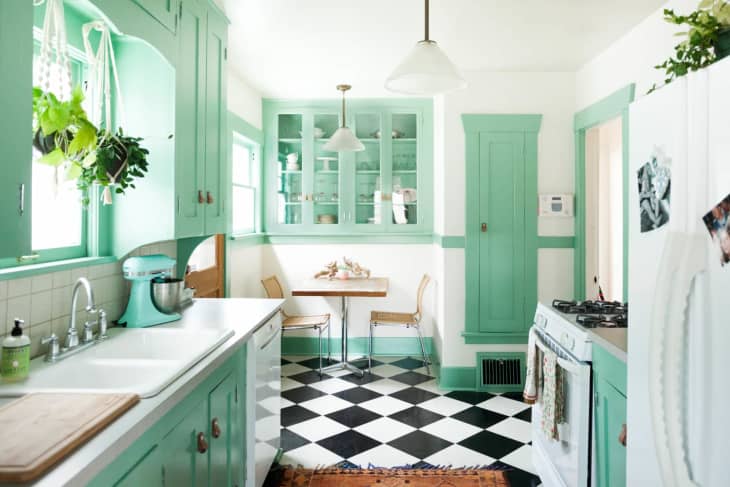 As far as making your kitchen look fresh and as close to nature as possible goes, choosing mint green as the dominant color of the walls would certainly be one of the recommended courses of action.
Just like the plant that gives this color its name, rooms that have mint green walls give you a feeling of freshness, morning air, and this feeling you have in the morning of going out and doing something useful. Also, mint green represents plants, summer, and nature, so if you like to have plants in your kitchen, mint green is a great overall tone-setter, so to speak.
Color schemes.
Colors that go well with hue of green kitchen paint would include royal blue, beige, light violet, as well as white.
8 – Eggplant Purple
Represents one of the darker colors on this list, eggplant purple is a dark version of purple that gets its name from eggplants – so, you can imagine what this color will look like on your walls.
Due to its natural intensity, you may not want to go overboard with this one and paint your entire kitchen this way. Instead, you can paint slimmer patches of the wall (backsplash, for example) and then add other, less intensive colors later on.
Alternatively, you can choose to paint the walls some other color and save the eggplant purple for cupboards, kitchen appliances, and perhaps chairs and tables in your kitchen. Wood goes great with this color, as it gives it a certain depth and texture.
9 – Cobalt Blue
Another intensely dark hue we're presenting here to you would be cobalt blue, a color that was initially produced from the aforementioned metal when it's turned into powder through a chemical process.
It represents one of the darkest hues of blue and is often used in paintings to represent the sky or water. As a paint color for your kitchen walls, cobalt blue can give the room a feeling of calm, seriousness, dignity, and power. Since cobalt blue is similar to royal blue, sometimes people mix them up, which gives you the idea of what sort of regal feeling this color gives you.
Cobalt blue mixes well with neutral colors such as different shades of white and black, so it can be a good idea to have white walls, for example, and then paint different details such as kitchen cabinets and cupboards in this color.
10 – Peach
Just as the fruit this color borrows its name from, peach represents a mild pinkish-yellow hue that is always a great solution for any sort of wall in your house, not only the kitchen.
While most variants of peach color are a certain mixture of pink and yellow, some slightly darker variations combine bright orange with pink, instead of yellow. This hue gives the room it's painted on an air of freshness, healthiness, as well as innocence and modesty. It's hard to get angry in a peach-colored environment. Peach also represents notions of friendship and caring, which is why many people choose to paint their kids' rooms in this color.
11 – Coral
For those folks looking to bring into their kitchen a certain air of warmth and vigor, as it prods on to go on and do stuff while in its vicinity.
The name for this color comes from the sea corals, which often come in different variations of the main hue, which is orange. The said variations are various additions of red and pink, the intensity of which tends to vary.
Generally speaking, if there is redder in this mixture, the color will look more energetic, while if there is pink as the secondary color, the resulting mixture will look more mellow and soothing.
12 – Radiant Yellow
As the name of this color suggests itself, radiant yellow represents a sort of hue that works best for people who would like to introduce some liveliness and brightness into their kitchen.
That said, the intensity of this color means you should go overboard with it, as too much of it can be too aggressive for the sense. When used in strategic places, however, this color will enrich the décor of the entire room and give off a notion of radiance, energy, and sunshine.
Also, radiant yellow tends to promote a feeling of alertness and can appear even threatening if overuse. If you use it in moderation, however, it will be attention-grabbing and exciting.
13 – Shell Grey
With mild grey as the basic tone for this color, shell gray is a specific sort of grey with subtle greenish and beige nuances – just like the oyster shells this color borrows its name from.
Rooms that are painted in this hue promote an atmosphere of sedation, sophistication, and formality. This is why it's not recommendable to overdo it because gray can also be considered boring, depressive, and emotionless.
When mixed in with certain green and yellowish undertones as is the case with shell grey, this color also becomes more mysterious and most importantly – it can be well combined with many other colors including deep blue, orange, and gold.
Conclusion
All in all, whatever kitchen paint color or kitchen color ideas you have in mind, one of the most important things to take into consideration would be to mind the contrast and to pair the color of the walls with the color of the cabinet's furniture and other items in the kitchen well.
As you will see, refreshing your kitchen by painting it your favorite color can do wonders for improving your mood while you're in it, and who knows – maybe the new paint job gives you a new inspiration to try out new recipes and prepare new meals.
We hope this article helped you learn about different exciting kitchen colors and wall paint ideas you can use for your kitchen walls and cabinets, as well as other surfaces, and we wish you plenty of success with your kitchen renovation.